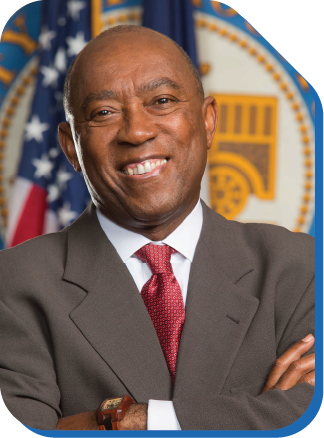 Mayor Sylvester Turner is Houston's 62nd mayor and is currently serving his second four-year term. Since taking office, Mayor Turner has expertly managed significant challenges facing the nation's fourth-largest city, including budget deficits, homelessness, and natural disasters such as Hurricane Harvey. He is currently leading Houston's response to the COVID-19 global pandemic. Amid national unrest and calls for improving community and police relations, the mayor signed an executive order restricting the use of force and created a Task Force on Policing Reforms.
Operating within the City's fiscal constraints, Mayor Turner oversaw Houston's remarkable rebound from Hurricane Harvey, championed historic pension reform, cheered on the 2017 Word Series Houston Astros, and hosted a successful Super Bowl LI. He also expanded municipal investments in renewable energy and led the winning bid to host the World Petroleum Congress in 2020.
Mayor Turner's signature priorities include Complete Communities, an initiative designed to revitalize and improve Houston's most under-served neighborhoods by partnering with local stakeholders to leverage resources to create a more equitable and prosperous city for all Houstonians. He also created the Hire Houston Youth program to provide jobs and internship opportunities for thousands of young people each year and forged public-private partnerships to improve neighborhood parks and expand Houston's technology and innovation footprint.
Before serving as Houston's mayor, Turner served for 27 years as the Representative for Texas House District 139. He worked on the House Appropriations Committee for 21 years and served as Speaker Pro Tem for three terms. He was appointed to several Budget Conference Committees to balance the state's budget and serve on the Legislative Budget Board.
As a nationally recognized leader, Mayor Turner is a member of the U.S. Conference of Mayors Transportation and Communications Standing Committee, vice-chair of the National Climate Action Agenda, member of the C40 and Global Covenant for Mayors for Climate and Energy and an advisory board member of the African American Mayors Association.
During Mayor Turner's tenure, the City of Houston has integrated the United Nations' sustainable development goals in the Resilient Houston strategy. In September 2020, Mayor Turner was selected to serve as Chair of the Resilient Cities Network Board of Directors. The RCN co-creates urban solutions to address complex and interrelated urban challenges, so that cities and communities thrive."
Mayor Turner is also the recipient of the Ohtli Award, the Mexican government's highest honor. Numerous publications and news outlets such as 60 Minutes, MSNBC, CNN, CNBC, and FOX News have recognized Mayor Turner as a thought leader. The Wall Street Journal, Black Enterprise Magazine, Cuba Today Magazine, Ebony, New York Times, Washington Post, and USA Today have also featured Mayor Turner for his leadership and accomplishments. In March 2020, the University of Houston Master of Public Administration Program Honored Mayor Turner with the Pioneer of Public Service Award.
As a life-long resident of Houston, Mayor Turner is passionate about his city and continues to live in the Acres Homes community where he grew up. He is a graduate of the University of Houston and earned a law degree from Harvard University. He began his law practice at Fulbright & Jaworski L.L.P. and later founded Barnes & Turner Law Firm.