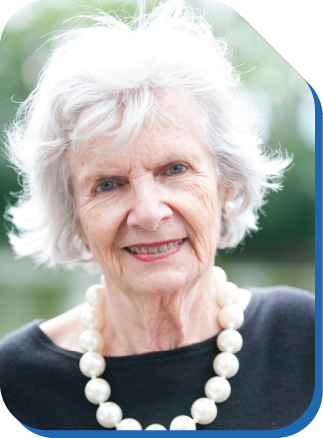 Dolores Russell Goble was born in September of 1932 in Houston, TX. When she was 7 years old, her family moved to Kilgore TX, where her father was an Engineer/Field Supervisor with Gulf Oil, and Dolores has always had fondest memories of growing up in the "piney woods" of East Texas.
Dolores graduated from Kilgore High School a year early and attended Southern Methodist University in Dallas as a Freshman. She transferred to the University of Texas in Austin as a Sophomore, and in 1952 she graduated with a Bachelor of Arts Degree in English, with a minor in Spanish. It was here at UT Austin that she met R. Mack Goble – the love of her life and beloved husband for 50 years. Dolores and Mack married on Valentine's Day of 1953, and by August of 1961 had five children and had settled in Houston – with stops in Philadelphia PA, El Paso TX, Monterrey (Mexico), and Shreveport LA along the way. Mack started his own business in Houston in 1960 as a Manufacturer's Rep. in the petrochemical industry, and for 25+ years Dolores managed the office while also serving as the corporate accountant. Meanwhile Dolores (aka "Super Mom") somehow also managed to raise those five ever-growing and rambunctious children – dedicating herself on a daily basis to their education, activities, and general well-being and awareness of the world around them. Always one to lead by example, Dolores delved into myriad volunteer projects and organizations over the years – including but certainly not limited to community service/outreach through the church (St. John's Episcopal & Christ Church Cathedral); advocacy of improved educational opportunity, literacy, and social services for the under-privileged; and more than 30 years of service as a Volunteer at St. Luke's Episcopal Hospital, where she worked with the blood donor drives, served as a translator/interpreter for Spanish-speaking patients and their families, and even "manned" the ever popular popcorn cart in the hospital lobby. And oh yes, "along the way" (in the mid-70s) she even went back to school herself and earned a Master's Degree in Spanish Literature at the University of Houston!
One project especially important to Dolores and to which she dedicated herself in particularly poignant fashion was the non-profit organization she ran on behalf of the Anglican Diocese of Namibia — SACA/South African Christian Alliance (later renamed CAN/Christian Alliance of Namibia). Inspired by Anglican "Bishop-in-Exile" Colin Winter of the U.K. (who was expelled by the S. African apartheid government in the 1970s for his efforts to help the under-privileged in the Damaraland region of S.W. Africa, now Namibia), Dolores single-handedly operated this non-profit from her Houston home for over 30 years, raising funds to build new/improved schools for the children while also increasing awareness of the ongoing difficult conditions back in Namibia, where she herself had never been. In 1994, the Anglican Bishop of Namibia invited Dolores to come to Windhoek, Namibia, where she was awarded the official certificate and title of "Honorary Lay Canon" of the Anglican Diocese of Namibia.
Knowledge and understanding of other peoples and cultures has always been vitally important to Dolores, and over the many years she and Mack opened their home to countless friends and visitors from literally across the globe – Thailand, Yugoslavia, South Africa, Ukraine, Spain, Italy, France, Russia, China, Peru, Ecuador, the Czech Republic (just to name "a few"!) – with a genuine interest and welcoming warmth that would eventually earn their Houston home the apt nickname of "Goble Arms".
Educational/Cultural groups Dolores actively participated in include American Field Service (AFS), International Institute of Education (IIE), Alliance Francaise, Literatae (Women's Book Club), and River Oaks Association of Democrats (ROAD Women), among so many others.
It was in this same spirit of global community and the vital importance of international goodwill, cooperation and understanding that Dolores enthusiastically joined and actively participated in the UNA-USA. She was a regular at all the Houston Chapter meetings and many activities, and served as its President in 1977-78 and again for successive terms as President from 2003 to 2005 – this nearly 30-yr span of "time served" being an excellent reflection of Dolores' consistent dedication to service, goodwill, and the betterment of mankind.