Houston Coalition Against Hate (HCAH)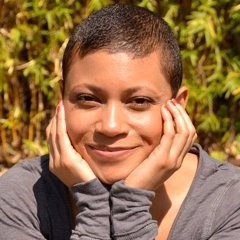 Marjorie A Joseph
This is our guest Speaker
MARJORIE A. JOSEPH is an organizer with over a decade of executive management, leadership, operations, program growth and development, marketing, accounting, and creative curriculum development experience. A team and solutions-oriented leader she is adept at aligning mission and vision with opportunity and strategy, as well as demonstrated effectiveness at fostering understanding, empowerment, and belonging amongst diverse staffs, and collaboration between organizations, institutions, and community leaders. A native New Yorker, via Los Angeles to Houston, Marjorie is proud to currently serve as the Executive Director of Houston Coalition Against Hate.
Prior to her role with the Coalition, Marjorie served as Associate Director of Street Poets Inc., an LA non-profit poetry-based peace-making organization dedicated to the creative process as a force for individual and community transformation. There she spent nine years doing the work of gang intervention and violence prevention through the use of music, poetry, and the mentoring of LA's youth/young adults.
Marjorie is a graduate of the Pennsylvania State University with a BA in Political Science and minors in Dance and African/African American Studies. She was also part of the Leadership In Action inaugural cohort at Rice University's Glasscock School of Continuing Studies Center for Philanthropy & Nonprofit Leadership. An accomplished writer and performer, her poems have been published in several anthologies, and she has appeared on stage (off-Broadway/internationally) and in film. A creative at heart, she is currently writing/producing a documentary called Private Collection about one of the few remaining collections of Haitian Art since the 2010 earthquake owned by art collectors/curators Leon and Evelyne Chalom.
A leader, visionary, and advocate, she has always been a proponent of art in the space of acknowledgement and activism; and, is the originator of the #justiceoverequity framework in order to facilitate societal and cultural shifts and transformation. Marjorie is excited to be in Houston heralding the work of the Coalition, and feels privileged to be living in the most diverse city in the county.
 "Service is the rent we pay for being. It is the very purpose of life, and not something you do in your spare time"